Good afternoon friends!
Our world is moving at such a fast pace, and nano-seconds can mean change. In reality, change is THE only constant in life…. an oxymoron TRUTH, as experienced by our cellular body. Every 7 years, our cells are completely replaced by new ones. I LOVE that knowledge, encouraging me to move, explore, create and sense change in my body.
This week we are celebrating a fellow Nia Trainer coming to our studio.
Kelle Rae Oien is the creator of the Nia 52 Moves/IT training, along with Debbie Rosas. Kelle is AWESOME! She is also the creator of one of the latest Nia routines to be released, SACRED.
While many of you have danced SACRED, and might even be teaching it, it is important to remember that staying fresh with change is what keeps us youthful, engaged and open.
Kelle is starting the weekend with a Friday night class at 5:30, teaching an adaptation of her routine SACRED, called PROFANE. It is going to be a wonderful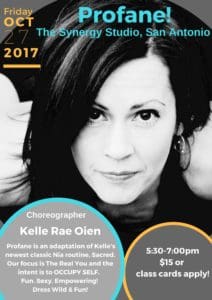 way for all of us to experience change by using moves that are familiar to different music. FUN!
You can use your Synergy card for this class, as well as the Nia 52 Moves/IT classes that Kelle will be teaching over the weekend, Saturday at 9:30 and Sunday at 11:00. ***NOTE: No Sunday Nia 4:00 class***
Have you thought about signing up to take the entire weekend with our dynamic friend? Don't hesitate! Students, teachers, belts… it is for everyBody. She will not be coming back anytime soon, and life is WAY too short to not take advantage of all the wonderful opportunities that come to The Synergy Studio and our community!
Click here for the link to sign up for the weekend!
AND… I will be teaching SACRED this week, in preparation for Kelle's adaptation. Come brush up or experience for the first time this great routine, then return on Friday at 5:30 for CHANGE, THE only constant in life!
Love in abunDance, Adelle
My classes this week:
Nia: Tuesday 7:30am, Wednesday 9:15am, Friday 9:15am
Nia FreeDance: Thursday 9:15am