Nia Friends!!!! Please read on…
Are you ready to learn, grow, and have fun?
We have 2 AMAZING fellow Nia Trainers coming to San Antonio, sharing their knowledge and expertise, as we dive deeper into the lifestyle practice we all love so much… Nia!
Sign-ups are happening, so jump in! It really helps ALL of us with planning if you sign up well in advance… me, fellow trainers, and the studio.
Joanie and I have been sooo supported in multiple communities around the world, as we travel teaching Nia FreeDance. Let's show both Kelle and Laurie that same support!
These two amazing people are the co-creators of Nia 52 Moves/Move IT *Kelle, and Nia 5 Stages *Laurie. It is an honor to have them visit our fantastic community, and beautiful city.
Many of you ask me how we can grow our community at The Synergy Studio… THIS is it! ☺
I have enclosed a flyer from Kelle, and more information about Nia 5 Stages from Laurie, including a video and FAQ's. These weekends are for teachers as well as students! YOU will learn sooo much from these extraordinary Nia Trainers!
Nia 52 Moves: Kelle Rae Oien, Nia Trainer from Santa Fe, NM! October 28, 29
Nia 5 Stages: Laurie Bass, Nia Trainer from Portland, Oregon! Nov 18, 19
With deep love, Adelle
Keep reading! 🙂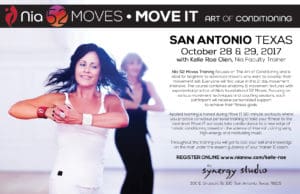 Here is a GREAT article and video to link to: What are the Nia 5 STAGES? http://lauriebass.com/blog-dynamic/55-what-are-the-nia-5-stages
5 STAGES FAQ's Answers to common questions….
Q. Is the 5 STAGES for me? A. This training is for everybody with a desire to move with a fluid, graceful ease for life. Whether you are a Nia teacher, belt grad or mover of any modality, it is the perfect accompaniment for any movement, fitness or sport practice. It will enhance any profession – movement or otherwise. For lovers of movement and the body, the study of the body's way of anatomy in motion. It is for able-bodies who can move from the ground up. You will be trained to teach adaptations.
Q. Beyond the Nia teacher, practitioner or movement lover, who is the 5 STAGES training ideal for? A. Professionals in the health, wellness, therapy, rehab and somatic fields have taken the training to engage in a personal practice and add professional skills.
Q. Will we be moving for the entire day? A. No. The Training is beautifully paced, alternating between movement sessions and discussion times designed to give our bodies a chance to rest and recharge. Honor your body by self-guiding and adapting. Students have successfully completed 5 STAGES while while healing medical conditions that necessitated limited movement. Your unique pace is perfect.
Q. Is there Pre-training? A. Optional to prepare before or review after: a self-paced study that includes reading material, 2 dvds and cd sessions with Debbie Rosas – creator – on the architecture, energy flow, body's way anatomy and voice. I will have extra sets if you sign up close to the date. It is rich in content to put you at ease.
Q. Is there a test? A. No. However, there are self-assessments that you may complete at home to hone the language of the practice as well as your knowledge. Q. How do I know if I'm ready to do 5 STAGES? A. If you've gotten this far, that's a sure sign that you ARE ready . Truly. You are. As is. No matter your exposure or experience.
Q. Can I become a 5 STAGES teacher? A. Upon completion of all sessions, you become a 5 STAGES graduate. In the Nia system, graduates who are current Livelihood Members are automatically licensed to teach. A dedicated 5 STAGES license is available to non-livelihood members ($170) and gives you access to a comprehensive post-training program.
Q. What is the GREATEST personal benefit? A. #1, you will have developed a life practice to increase the power, pleasure and grace of living in your body. #2 The 52 post-training Lesson Plans as a somatic self-study is phenomenal. #3 Like all Nia trainings, all practices translate into lifestyle tools.
Q. What is the GREATEST professional benefit? A. #1 – physical sustainability. #2 – mastery of your voice. #3 To enhance your Nia teaching (greater access to physical pearls) or any profession, as well as the way you communicate in your life.
Q. Got a Q that isn't covered? A. Shoot me an e-mail (laurie.bass@nianow.com) and I will answer. How to register 1. Register at NiaNow with 50% of the tuition by clicking: (INFO + REGISTER ) 2. You will be invoiced for the other 50% (instruction fee) by Laurie
Links to sign up!
Nia 52 Moves/Move IT with Kelle