Good evening! An evening of Living Meditation…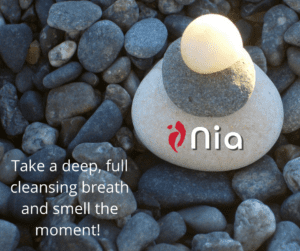 There is something about the sunrise and the first few hours of the morning that make me feel cleansed and rejuvenated, ready to move forward enthusiastically. As the day wears on, I tend to lose some of this dynamic energy and the inspiration it provides. With multiple tools to draw from, many times I turn to the practice of Living Meditation.
In Nia, the practice of Living Meditation comes to us through Principle #5, Awareness. Through awareness of where our body is at rest, even when in class or moving through our day, we can find peace in every moment, and rejuvenate ourselves with inspiration.  Finding peace in the chaos brings our body closer to homeostasis, where our energy is balanced within and without.
Join me in class this week, as we focus on Living Meditation. By cultivating that rising sun energy inside ourselves and finding Living Meditation in every moment, we can carry it with us to light our way through any time of day or night, drawing on its power to awaken and renew our spirit.
Tuesday 7:30am, Wednesday 9:15am
Thursday 9:15am*Nia FreeDance
Thursday 12:00 Yoga
Sunday 8:45 Slow Flow Yoga
AND… My classes teaching with Joanie resume this weekend, as the White Belts complete their training! Yipppeee!
I hope you will join us on Friday 9:15am, Saturday 9:30am and Sunday at 4:00… when we celebrate with their graduation dance!
In peace, reflection, and love,
Adelle